Home Care BD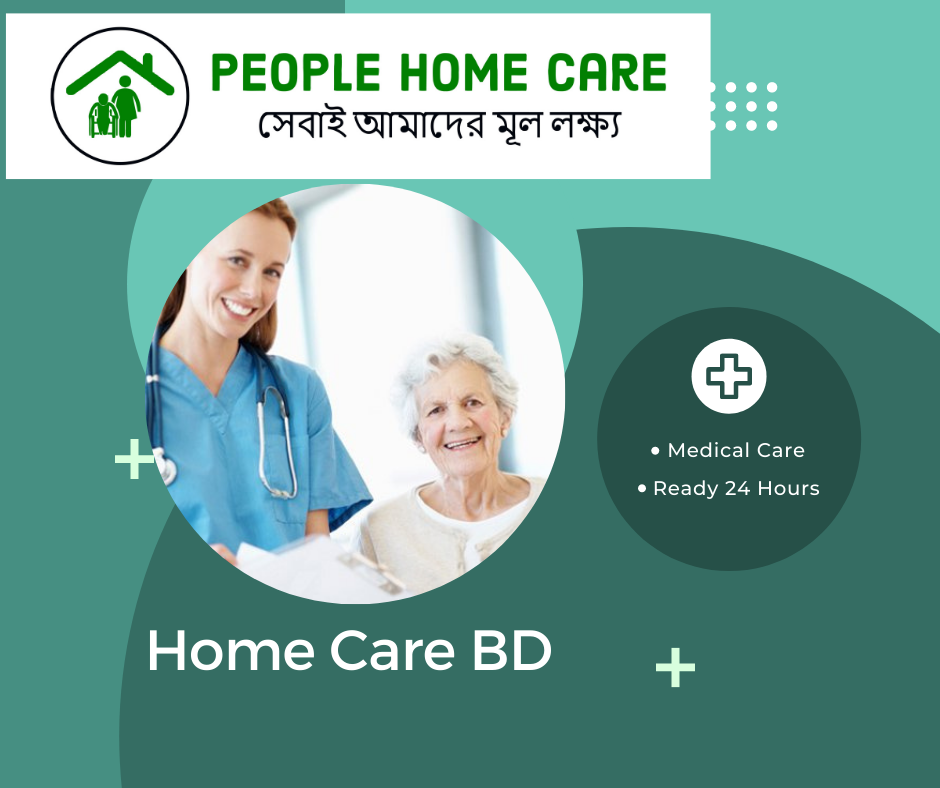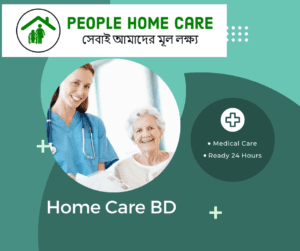 We provide the best home care nursing services in Dhaka, BD. Our nurses are extremely skilled and humble. We have trained them properly to give…
 Be present at work at the right time home care bd.
I will take the medicine at the right time, in the right amount, according to the advice of the doctors.
Measure blood pressure, pulse, fever, glucose, respiration, etc. at the right time.
I will wake up, clean my face, and take care of my eyes.
I will take a bath at the right time, and take care of my hands, feet, and back.
The patient will be seated or laid down as he or she feels comfortable.
I'll help you get back.
I will eat the right amount at the right time. If I can't eat by mouth, I will try to feed again and again by NG tube or an alternative way.
If there is any kind of bedsore or wound in the patient's body, I must keep an eye on everything, if necessary, I will change the side every 2/3 hours
I will help the patient in the toilet. I must clean the toilet and the bed home care bd.
NG tube, catheter, BP, suction, and must take care.
Walk 2/3 times every day and massage the body, hands, feet, or exercise according to the needs of the patient.
I will read magazines, storybooks, etc. to the patient and talk to the patient nicely.
I will arrange the clothes and bed sheets used by the patient.
Necessary medical equipment must be kept clean and tidy with care.
Will treat the patient's parents respectfully. Nursing will provide all kinds of services as per structural education.
Online home care bd
Home Care BD Home health Best nursing is a nursing specialty in which nurses provide multidimensional home care to patients of all ages. Home health care is a cost-efficient way to deliver quality care in the convenience of the client's home.
Nursing Home health nurses create care plans to achieve goals based on the client's diagnosis. These plans can include preventive, therapeutic, and rehabilitative actions.
Home health nurses also supervise certified nursing assistants.
What is Best Nursing Home Care BD?
Nursing home care is a service where an individual can get extra care services from a nurse or nurses' assistants. These nursing home care facilities may include homes or apartments for those who need extra care for their day-to-day work or who no longer want to be alone. Similar to common places to do.
Many nursing home care providers in Bangladesh provide high-quality nursing home care services 24 hours a day, 7 days a week. These services may change over time. This may include going to the bathroom, receiving medical help, and providing food.
What are the benefits of nursing home care?
Nursing home care is an advanced quality service. Through this a person can stay at home and lead a healthy and normal daily life. Nursing home care helps to increase the social and personal importance of a person.
Best Nursing home care almost always helps a person without having to worry about home maintenance and allows them to live independently. For example, any home maintenance works like this.
Many nursing home care providers provide social work.
Having the ability to receive the necessary nursing home care services and having a staff member to monitor an individual can create a sense of well-being for any individual and family.
How advanced is the nursing home care service in Bangladesh?
Nursing home care services in Dhaka, Bangladesh have improved and improved over time. At one time people in our country did not know much about nursing home care. They knew that they had to receive hospital services. Outside of that nursing home care that services can be receive. They had no idea about that. Nowadays people are educating, this education is giving them a touch of novelty. Which is playing a very important role in receiving health care in their personal lives.
It is out of this curiosity of people that the urge to receive services has been created. As a result, many people are interest in receiving and receiving nursing home care services. When people started accepting this service, they saw an increase in the demand for this service from various private companies. Showing interest in improving the quality of service. And since then, nursing home care services in Bangladesh have been improving. At present, the quality of nursing home care services in Bangladesh is as good as the nursing home care of any developed country.
The professional nursing organization for home health nurses is the Home Healthcare Nurses Association.
Home health care is intended for clients that are well enough to be discharged home, but still need skilled nursing personnel to assess, initiate and administer nursing interventions. Lillian Wald is recogning as the pioneer of public health nursing.
Medical home Service
She established the Henry Street Settlement which served underprivileged individuals and Home Care BD families.
Nurses and social workers that worked at the Henry Street Settlement visited patients in their homes, assessed their health needs.
Wald was able to convince Metropolitan Life Insurance Company to cover home care services.
This allowed public health nursing to shift from charitable work to profitable work.
There is a wide range of services that are performed by many different professionals, services include wound care, disease management, medical equipment,
Best Home Care BD therapy, medical social services, and patient education. We provide the best home care nursing services in Dhaka, BD.